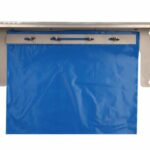 Tear-off sleeveless apron on block
Short 120cm
PE 20my
Waterproof
Art n° A00250 White
€0,00
Description
100 pieces on block
Masterbox 10 blocks *100 = 1000 pieces
Specifications:
Single use
Protects against splashes & other contaminants
Mainly used id. food industry, pharmaceutical industry, cleaning and general industry.
Keeps clothes dry & clean underneath.
Material:

Non-woven LDPE (low density polyethylene) 20 my *Also available in 60 microns.
Water resistant: ideal for use in a humid environment.
Structured material which reduces sticking.
Elastic, which makes tearing less likely.

Model with loop over the neck & ribbons around the waist easy to pull out.
SHORT model 70×120 cm *Also available in LONG model: 70×150 cm
Tear-off on block: holes provided for tear system
Colours:

A00250A White
A00249A Blue * Other colors on request

Packaging:

Provided with barcode and QR code
Info in 27 languages: NL, FR, EN, DE, ES, IT, PT, BG, CS, DA, EL, FI, HU, HR, KK, LT, LV, NO, PL, RO, RU, SK, SL, SR BS, SV, TR & UK
For more technical information, such as certificates, please contact Protect and Care at the general number: 09 321 32 58 or by email at offerte@protectandcare.be.